Beautifully
simple

time tracking
oat5 is a
simple

web based time tracking software.
It is easy to track your time and expenses on projects, tasks and clients
Why use
simple

time tracking software?

With simple and easy to use time tracking software
you and your employees will love tracking time.
Intuitive
oat5 is the easiest time tracking software on the market! Its intuitive and easy to use for everybody.
Customized
You can customize oat5 for your companies needs.
Just with plugins like expenses or driving on and off as you wish.
Get Started in Minutes
Getting started with oat5 is incredibly easy.
You can set up your entire team or company in just a few minutes!
You can use it to track time and expenses on Projects, Tasks and Clients.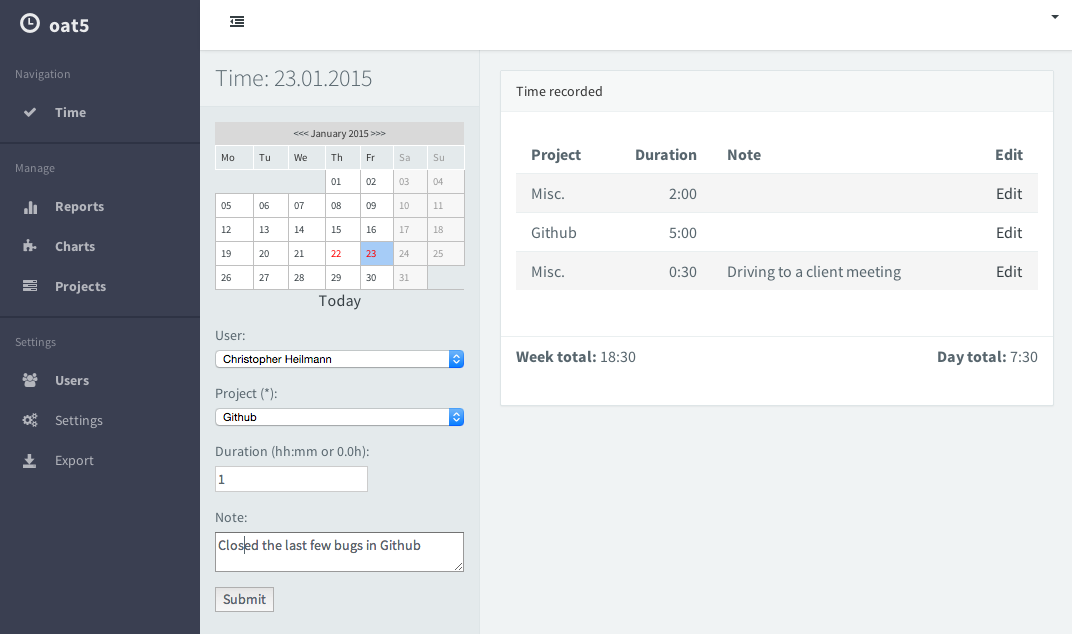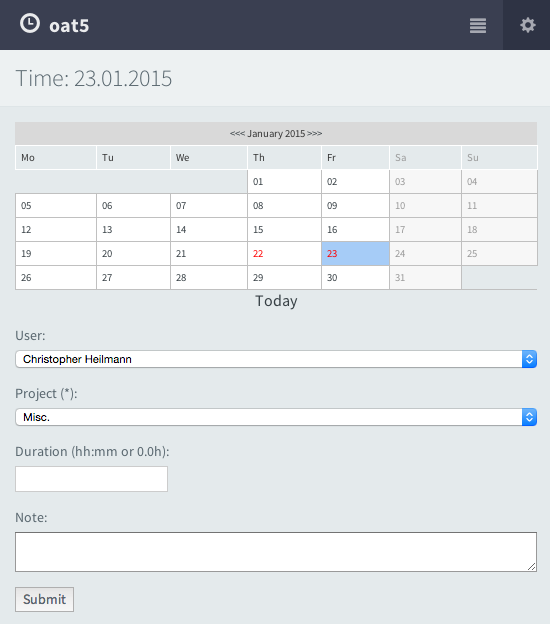 Packed with features
Time tracking. Easily track you and your team member or co-workers time on clients, projects and tasks. (duration and start/finish are possible)

Expenses. Keep track of expenses from everybody in your company. You can even find a complete report over it later.

Projects and tasks. With oat5 you can add as many projects and tasks as you want, keep track of time and expenses on all of them.

Clients. Add the client plugin and keep track of how much time you are spending on each client.

Driving. Track your daily kilometers on clients and project to keep an journal of your driving expenses.

Reporting. Advanced options for reporting when your manging employees, and for the employees they can see there time spent each week.

Notification. Tired of always creating new reports for all employees? make the system work for you, and get them sent whenever you want.
Works on all platforms
With oat5 you can easily track your time on your iphone, android, tablet or computer.

The software is made responsible so that you can use it no matter where you are, and what you are using.
"I used to track me and my employees time on a paper with pen. Now we all use our mobile phones and the reports are automatically sent to the accountant"
- Kim Lars, Carpenter
"I was looking for an easy to use software i could use to track the time all my part times co-workers could track there time, oat5 gives me that!"
- Thomas Hansen, CEO
"As a freelancer it is important for me to track the time i spent on each customer. oat5 is simple and serves my needs"
- Simon Cook, Developer